One of our goals is to get more involved in the community in 2019. If you have similar goals, or just want to know what's up in the Milwaukee nonprofit scene, we're here to help!
To get you started, we've gathered a list of five local nonprofits near and dear to our hearts that could use your help.
1. Milwaukee Film
Are you a film buff who's looking to get more involved in the local film community? MKE Film offers plenty of volunteer opportunities, including (but not limited to) box office help, street team, educational screenings, special events, theater operations, and office administration. Whether you want to be in the middle of the action or behind the scenes, Milwaukee Film probably has a volunteer opportunity for you. You can find all of the volunteer information here.
As you may (or may not) know, Milwaukee Film has officially taken over the lease of the historic Oriental Theatre, which is in need of some serious upgrades and repairs. To help fund these repairs, Milwaukee Film has started a "Take A Seat" campaign that allows people to sponsor a single seat, or many seats, in the Oriental Theatre in honor of a family member, friend, or loved one. This is a great way to leave your mark in this historic theater and help out an amazing organization. "Take A Seat" and help give film a future in Milwaukee!
2. United Community Center
United Community Center (UCC) is an organization that provides programs to Hispanics and near south side residents of all ages in the areas of education, cultural arts, recreation, community development, and health and human services.
Ongoing volunteer positions at the organization include tutors, athletic coaches, "reader leaders," and adult day care center staff. If you don't a lot of time to spare, that's ok! You can donate directly to the organization. If you need more of a reason to donate, here's how your donation can impact UCC's clients:
- $50 can provide art supplies for preschool students
- $100 can provide drug-rehab consultation for a person in crisis
- $250 can enroll a frail elder in the geriatric center
- $1,000 can provide one year of pre-college support to this year's senior class
3. Wisconsin Humane Society
Are you a lover of four-legged creatures and all things furry? The Wisconsin Humane Society (WHS) is committed to providing protection, shelter, and care for wild and homeless animals. We're big animal lovers here at Lightburn, so this one means a lot to us. Whether you're looking to make a monetary donation or want to get more deeply involved, WHS has plenty of opportunities for you!
Aside from monetary donations (which are still very important!), WHS is always looking for volunteers to help out at their six campuses throughout the greater Milwaukee area. These volunteers play a vital role in the success of the shelters, which care for nearly 35,000 animals each year. It's important to note that due to extensive training for volunteer positions, WHS requires a 6-month commitment for 2–3 hours each week. If this sounds like something you're in to, apply today!
4. Hunger Task Force
Hunger Task Force is Milwaukee's only free and local food bank. Its mission is to prevent hunger and malnutrition by providing food to people in need and promoting social policies to achieve a hunger-free community.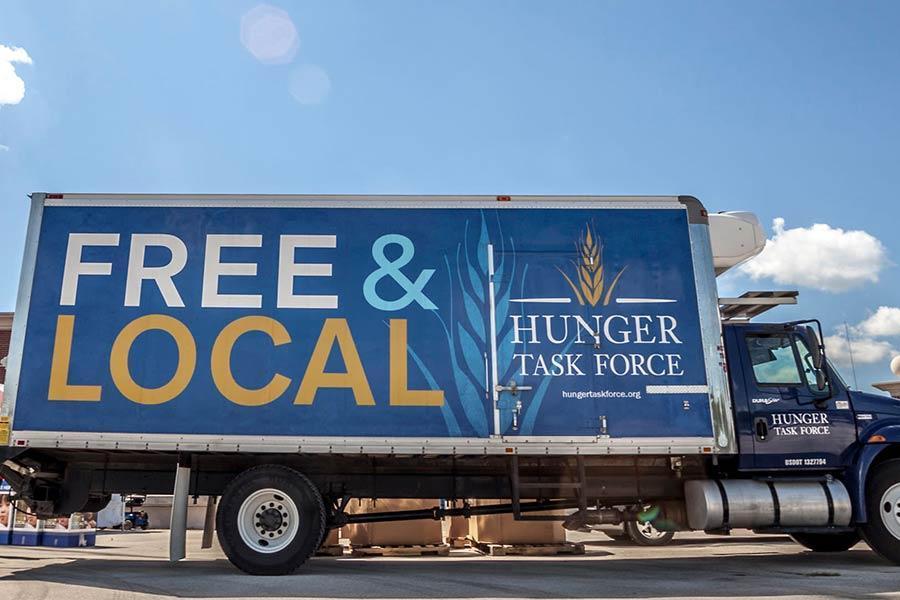 There are dozens of ways to get involved with the Hunger Task Force. Monetary donations, workplace giving, and holiday cards are a just ways to donate here. But one of the most effective ways to get involved is to a host a food drive at your office, church, or school. These food drives are easy to set up and 100% of the food goes directly to those in need in our community.
5. Islands of Brilliance
Islands of Brilliance is a creative academy for children with Autism Spectrum Disorder (ASD). Its mission is to facilitate creativity through technology by teaching special-needs children basic skills in Adobe Creative Suite as well as providing a social outlet for students and their families. As a web design agency, this one hits close to home. We're proud to have members of our design team volunteer here on a regular basis and share their expertise with the children at IoB.
If you're a Milwaukee creative who is looking to give back to the community or a special-needs teacher who could lend an hour on the weekend, IoB has plenty of opportunities for you!
There are hundreds of nonprofits throughout the Milwaukee area that do amazing things for our community. Find one that speaks that you and your interests and figure out how you can help. There's a lot of different ways in which you can help any organization. Donating money or items to a cause, of course, always makes a difference. But, if you don't have the cash to spare, or if you want to become more deeply involved, volunteering at these organizations can be a great (and fun!) way to make an impact.