Like many businesses, craft breweries are adapting to their ever-changing markets, constantly seeking new opportunities to expand their digital footprint.
Milwaukee's Lakefront Brewery partnered with us on a mission to grow brand awareness and increase in-store sales of their Bierzeit, Hop Gods, New Grist, and Riverwest Stein beer brands. While not all these products are strictly seasonal, we used a seasonal framework to promote each, focusing on their top-ranked flavor profiles. Light and malty in the summer, medium and fruity in the fall, with gluten-free featured year-round. Each campaign had the same core objective, to sell more beer, but each focused on different locations and preferences.
With an eye on data collection, our goal was to run multichannel campaigns that would allow us to test different audiences and creative angles to find winning segments.

Decreasing CPM with advanced audience profiling
To get started, we deeply studied Lakefront's data to define current audiences and underserved markets. We also researched all combinations of terms we could uncover related to "Craft Beer Keywords." The combined short- and long-tail keyword list covered nearly 100 different combos of queries. That was in addition to the slew of keywords, phrases, interests and needs of the gluten-free market. Campaigns did not include branded content for these initiatives since we wanted to find and capture new visitors who may not know their brand or product names.
Bierzeit and Hop Gods: Audiences were based on a user's search history and web activity. Optimizing spend on people with an interest in craft beer, these campaigns were focused on local reach, targeting the greater Milwaukee, Madison and Green Bay.
New Grist: Audiences were based on people searching specifically for gluten-free beer and gluten-free diet-related keywords. For their gluten-free brew, we pushed for increased national exposure that included Phoenix, Indianapolis, and Pittsburgh.
Riverwest Stein: Audiences were focused on younger generations who might be newly discovering their brew preferences. This campaign focused on brand exposure in Southeastern Wisconsin.
This focus gave Lakefront the best CPM rate possible while gaining visibility across channels.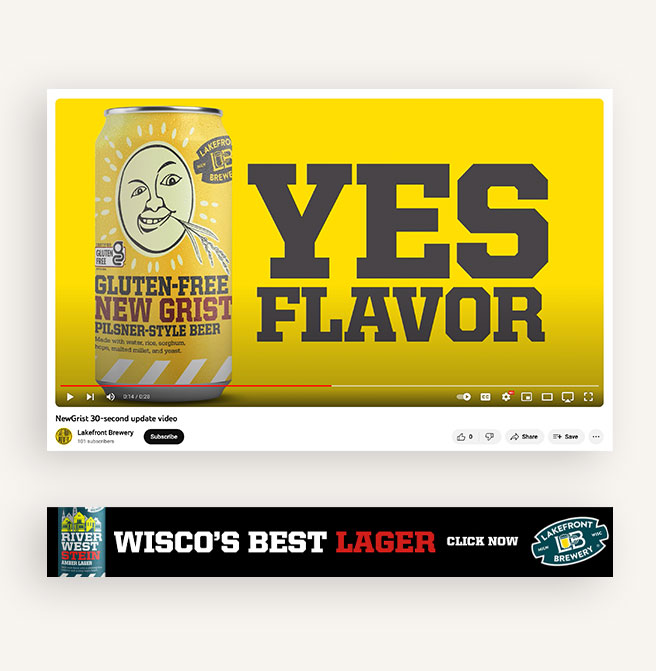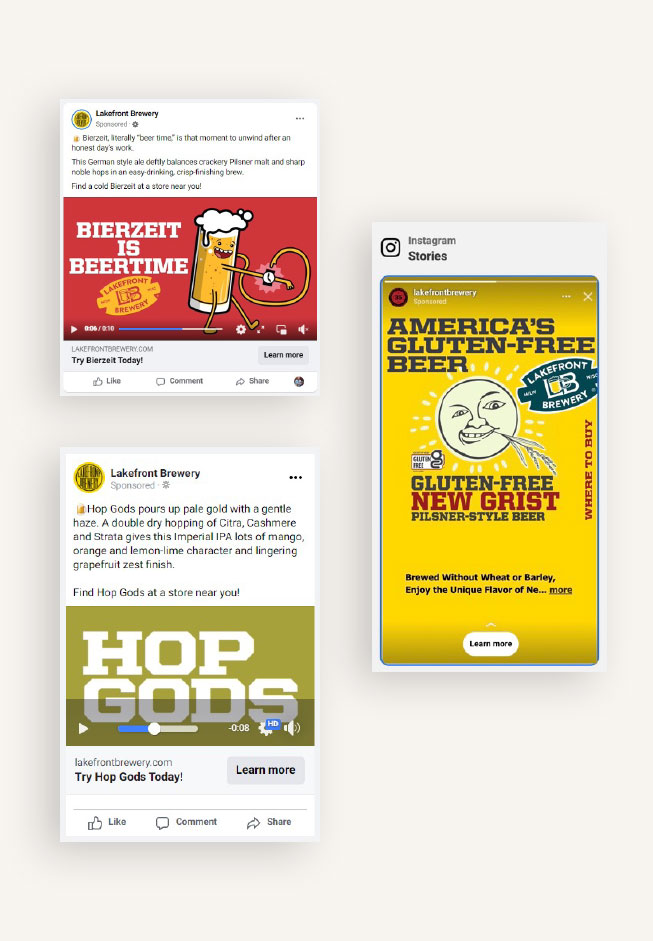 Running multichannel creative with programmatic delivery
For the media buys, we leveraged a mix of Google search campaigns, display advertising campaigns on the Google display network, pre-roll video campaigns on YouTube, and social media advertising on Facebook and Instagram. We tested a variety of placements and a variety of creative types and optimized for maximum exposure with efficient spending.
Over the course of all four campaigns, we A/B tested performance metrics that included:
Video length
Video hooks
Banner animations
Banner sizing
Ad placements
Audience targeting
There are many ways to manage media — we chose to lean into programmatic strategies and targeted user interests to serve ads across all four markets. For Lakefront, we let the AI within the platforms lead the way to the best use of resources. Over time, channels would pivot to deliver ads only to user types most likely to engage.
"Between testing and channel programming, we were able to continuously deliver the most bang for Lakefront's buck. We never want to overspend on misplaced ads."
— Nick Bosch , Senior Marketing Analyst
Between all three campaigns, we collectively:
Served over 1.5 million ads
Drove thousands of users to Lakefront's website
Kept CPM under $3.00
Kept CPC under $4.00
Kept CPV under $0.50
Our digital analysts would consider the following next steps to optimize these ad campaigns based on our findings.
Facebook and Instagram only featured the video animation, so testing out single static images would be interesting
YouTube has shown big potential, Reddit has specific beer-focused subreddits, Tik-Tok is growing rapidly — Lakefront has opportunities to expand into other channels
Further work could be undertaken to dive deeper into segmenting specific age groups
Adding new campaigns for additional beer brands would give the campaign a boost with fresh content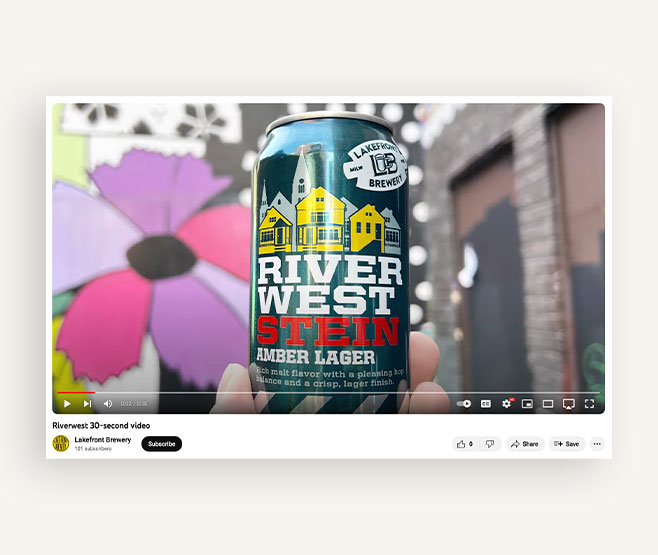 Investing in paid ad campaigns
The best partners will help your team create a sustainable digital marketing ecosystem. Lightburn measures twice, cuts once and tests everything we possibly can along the way.
It's about creating opportunities one click at a time, not just ROI. We help aggregate all your data from web campaigns, storefronts, mobile apps and operational platforms to turn actionable insights into activities and conversions.
If you want to increase your market share using paid channels, call our pros. We'll have a specialist speak with you to help you see what it takes to increase visibility.