"Many companies have forgotten they sell to actual people," HubSpot CTO & Co-Founder Dharmesh Shah once said. "Humans care about the entire experience, not just the marketing or sales or service. To really win in the modern age, you must solve for humans."
Your human customers are each unique, of course. Marketers can access personal data in this modern age to understand individual wants and needs — creating an entire customer experience that solves for humans on that 1:1 level is not exactly cost effective, though.
Your best ROI bet is using data to identify common traits across those you sell to, then building out customer personas. These fictional-yet-realistic archetypes are the first foundational step to creating a highly relevant customer experience. Personas empower marketers to align across all customer touchpoints from consideration to loyalty as outlined in journey maps.
The difference between target audience and buyer persona
Who you're selling to vs. who you're marketing to. Most companies have a basic understanding of who their customers are. Ask leaders who they sell to and they'll give you gender, age range, geography, household income, marital status… not wrong, but primarily helpful to sales teams.
Successful marketing programs are rooted in clearly articulated persons. These documents use first- and third-party data to give a face and a voice to each key customer segment.
Personas like this are the starting point for customization and segmentation initiatives, and fundamental for creating a comprehensive journey map. Strong, useful documentation might require more data and capacity than you have available, though.
Here's a generic representation of what Lightburn recently created for a longtime client: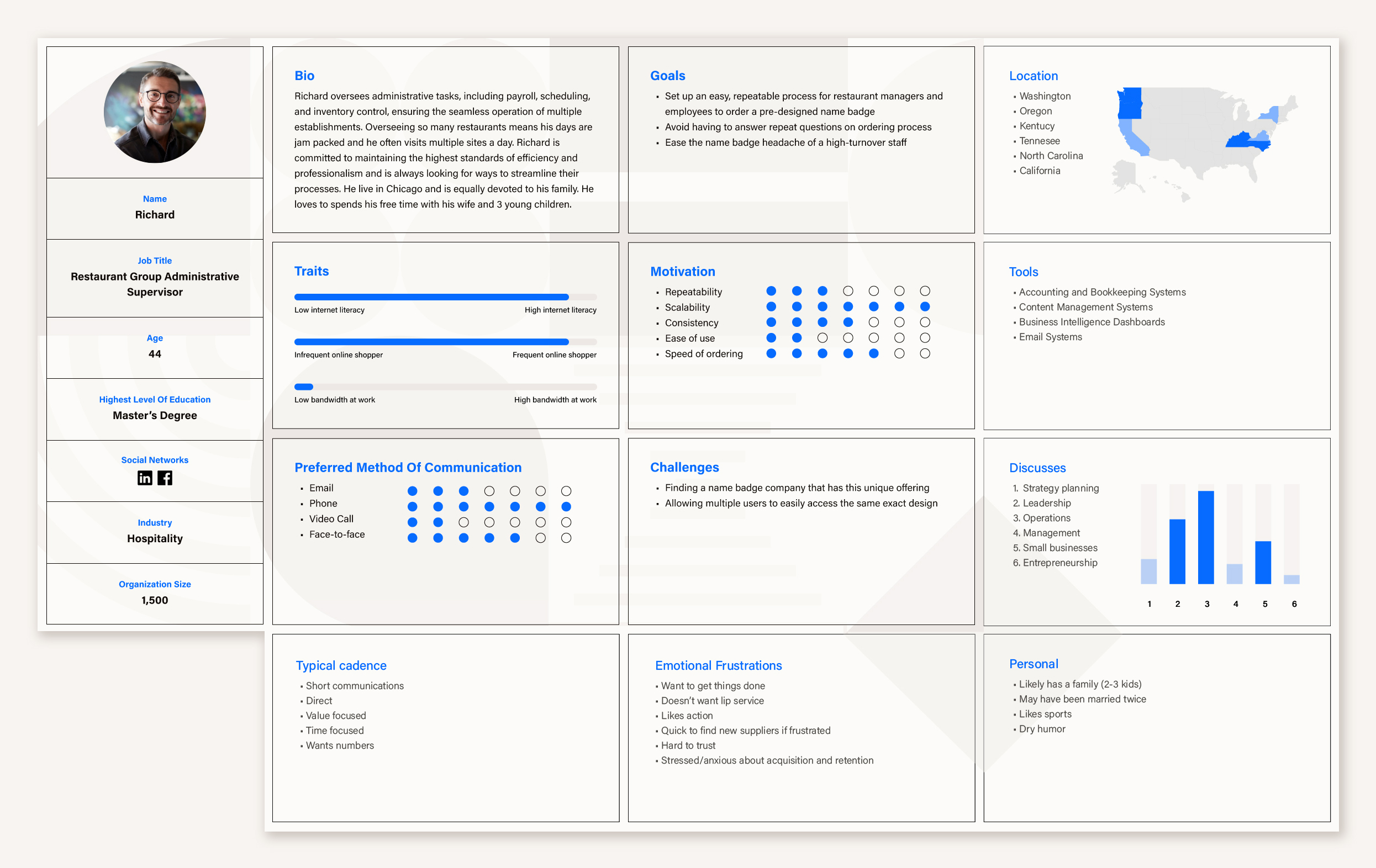 Why it is important to understand the customer's context?
Digital analytics give you demographic data and a certain degree of behavioral info. Quick research can uncover more through publicly available reports, online reviews, competitive analysis and social media sentiment.
Personas become truly useful with more intentional, strategic interactions that put customer information into context. Surveys, user interviews, focus groups and other studies uncover psychographic data to fully understand needs, wants and motivations.
Many companies struggle with having full-time resources in place for such projects, though. Dedicated third-party support brings a skilled and unbiased approach to this research. They'll then incorporate relevant digital data for multiple user types.
Once documented, personas only help grow business if effectively implemented. You have to truly hear the voice of your customer and respond to be successful.
Making personas actionable (and implementing it)
While marketing teams may develop strategies, the owner of persona documents and driver of your customer experience should be someone in your organization outside of those executing the strategy. This gives someone above the day-to-day fray more clarity to challenge what marketers think they know about their customers — and greater autonomy to push back on tactics and messaging that don't work.
In other words, assign someone outside of marketing to be your Voice of the Customer (VoC). Personas will make it easier for this individual to advocate on their behalf.
Project managers are key to successful implementation, making personas part of your workflow at each step of marketing execution. For customer-centered organizations, personas are the 'why' that hold every project together from design through development and deployment.
Each team member at each touchpoint, from leadership to sales through support, needs to know and understand these documents to:
Speak toward prospect and client experience, history, and long-term dreams.

Connect by using the same type of words, language, and cadence.

Understand by referencing other businesses in media outlets they follow.

Discuss topics related to their business and tools they're familiar with.

Hear their frustrations and learn how to support ongoing needs.

Define how your product or service can prevent, fix, or resolve their short-term needs and growth goals.
Digital marketing planners will love you if you give them a clear, full view of who they're targeting. Personas will inform DM channels, messaging and the nurturing of that direct, personal relationship after the paid click.
That's not the end of the customer experience, of course. Capture benchmark data then measure progress to know if your personas are right on or need refinement. Regardless, make a point to update personas regularly — people and the marketplace are dynamic, to say the least.
Personalized CX increases profitability, boosts customer retention and lowers customer acquisition costs. Personas will empower you to speak with your ideal customers through highly relevant methods.
Allocate time and effort for personas to be fully realized then fully implemented. Creating a more relevant customer experience is worth the focus and resources to get it right.
If you have the right people and tools in place, use them to their full potential. Build out robust personas then make them the basis of your customer journey map. If you think you need help or want consultation on your approach, ask us anything.