In industry reviews, both Sitecore and Kentico have an overall successful ranking in the marketplace, with Kentico outranking its competitor by just a few points in every category (pricing, integration, deployment, and support).
Sitecore Versus Kentico DXP
In our experience, the features and functionalities included in Sitecore are very comparable to Kentico, with a few noticeable differences that continue to drive greater success for our Kentico clients.
Kentico offers a faster time-to-market, reducing investment in resources.
Kentico has more ready-to-use features, which can help increase user adoption and decrease learning curves.
Kentico allows for more holistic data integrations to third-party apps.
---
View our Kentico Migration Services
---

Sitecore Strengths
We do understand why you may have chosen Sitecore.
It's a leader in the enterprise segment.
They to allow for scalability and flexibility using micro-service architecture.
Using ReactJS, their framework does support an omnichannel strategy.
They do offer personalization, additional marketing, e-commerce, and CMS functionalities.
They also have several plug-ins and marketplace extensions for their users.
The above, coupled with their strong partnerships with Microsoft and Gartner, make them a fairly reasonable choice for large businesses.

Sitecore Weaknesses
Those working with Sitecore or who have experience with Sitecore quickly realize its weakness.
Heavy infrastructure is needed for both development and run time, leading to significant operational costs not included in the initial quote, including data storage, rolls, services, and servers.
Their system requires a lot of configuration and resources. It can be difficult to manage, upgrade, and deploy. Upgrades are commonly painful.
Lengthy deployment and coding is needed to use the system, which is why clients end up paying to create their own accelerators.
Due to the complexity of the product, very few experience partners can manage its features at full-scale, while supporting your business appropriately.
Integrations with vendors may be limited; payment gateways, fraud management, and integrated solutions are limited.
These weaknesses quickly increase the bottom-line investment you are making to your headless CMS.
Questions to ask when you're considering Kentico versus Sitecore
When are you planning to launch your project?
Kentico can be delivered quickly and at total value. It will give you a fully customizable and extendable website with an all-in-one DXP running in a few months, not years.
How many people will be involved in the project? Are they text savvy?
The Kentico system is easy to use and configure; it offers diverse role settings, permissions, and workflows; there are no limits for concurrent users across the entire platform.
What kind of sites or apps do you plan on managing within the solution?
Unless you specifically need multi-channel options, Xperience offers a larger full-service solution with built-in digital marketing and ecommerce functionality. In addition, partners can deliver a solution and a shorter timeframe, backed by worldwide 24-hour support.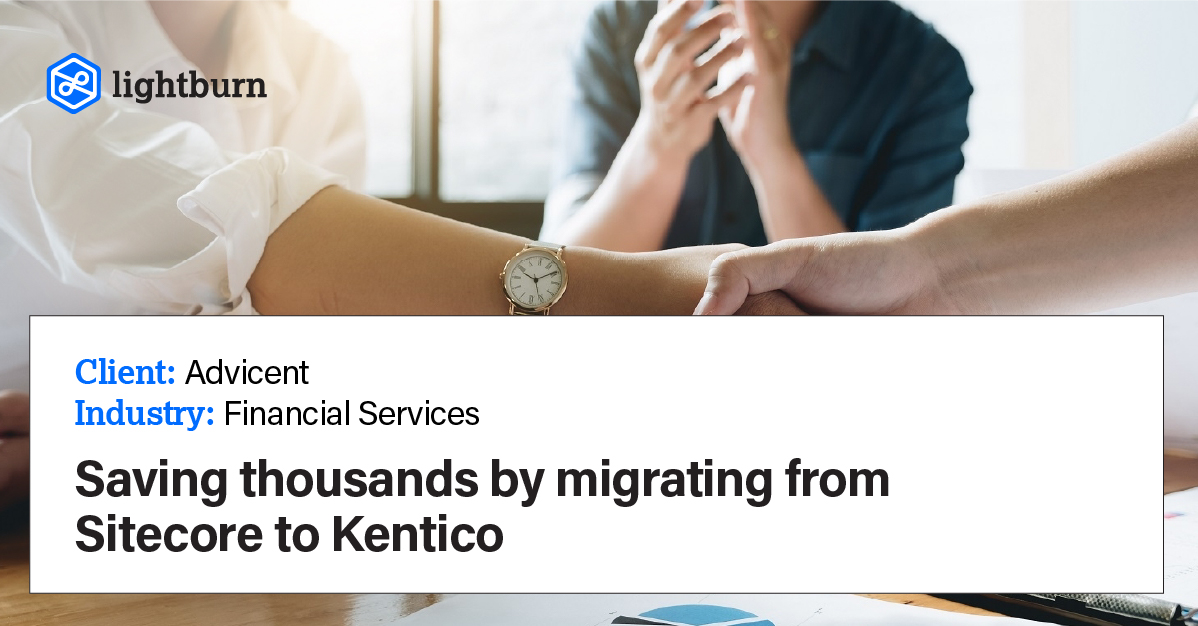 Click on the image to view the Advicent Client Profile.

The Financial Bottom Line
The Kentico Xperience has a singular buy-in that includes access to nearly all of its features and integrations, starting at around $10,000. While Sitecore offers a by-quote pricing model, companies will quickly uncover a $30,000 minimum with additional subscription-based fees related to ongoing support or full-service future functionality.
With Kentico, you can get the best value for your money, excellent service, and transparent pricing. If you're interested in discussing how to transition your website from Sitecore to Kentico, give Lightburn a call to speak to a digital marketing expert at (414) 347-1866 or via email at contact@lightburn.co.