SMS marketing is a powerful tool. It can help build sustainable growth in any business by reaching customers quickly. It's the perfect complement for email marketing campaigns, creating the one-two punch that diversifies acquisition by providing an additional channel for customers to engage directly with your brand.
Unlike emails, SMS messages are rarely filtered out or overlooked because they are delivered directly to a customer's smartphone, meaning that messages are almost always seen — and read — in full.
Depending on your market, implementing a text message marketing strategy can give you a huge boost in engagement and revenue.
SMS marketing for ecommerce and retail brands
When it comes to ecommerce, SMS marketing is an especially valuable tool.
Send reminders for abandoned carts: Automatically remind customers of their pending purchases with a text message that contains a link to their cart.
Personalize promotional offers: Remind customers of special deals and discounts by sending personalized SMS messages.
Keep customers informed about order status updates: It's important to keep customers updated during the delivery process, and SMS is a great way to do it.
SMS marketing for B2B businesses
For B2B businesses, SMS marketing is a great way to reach out to potential and existing customers.
Send promotional offers: Reach potential customers by sending them promotional offers and discounts via text message. This can help generate sales and increase brand awareness.
Send reminders for upcoming events: Automatically remind customers of upcoming events with an SMS message that contains a link to the registration page.
Keep customers informed about new products or services: Keep your customers up to date about new products and services by sending them text messages with product information or updates.
Adding SMS to Shopify with Attentive
Callisters Christmas, an online and brick-and-mortar retailer, started using SMS messaging as part of its customer experience lifecycle. They automated order confirmations, shipping details, and exclusive sales offers.
These tactics increased customer satisfaction and have attributed to a double-digit bump in revenue. This channel reached a highly engaged audience with an 11% conversion rate, 2X the average conversion rates for other inbound channels.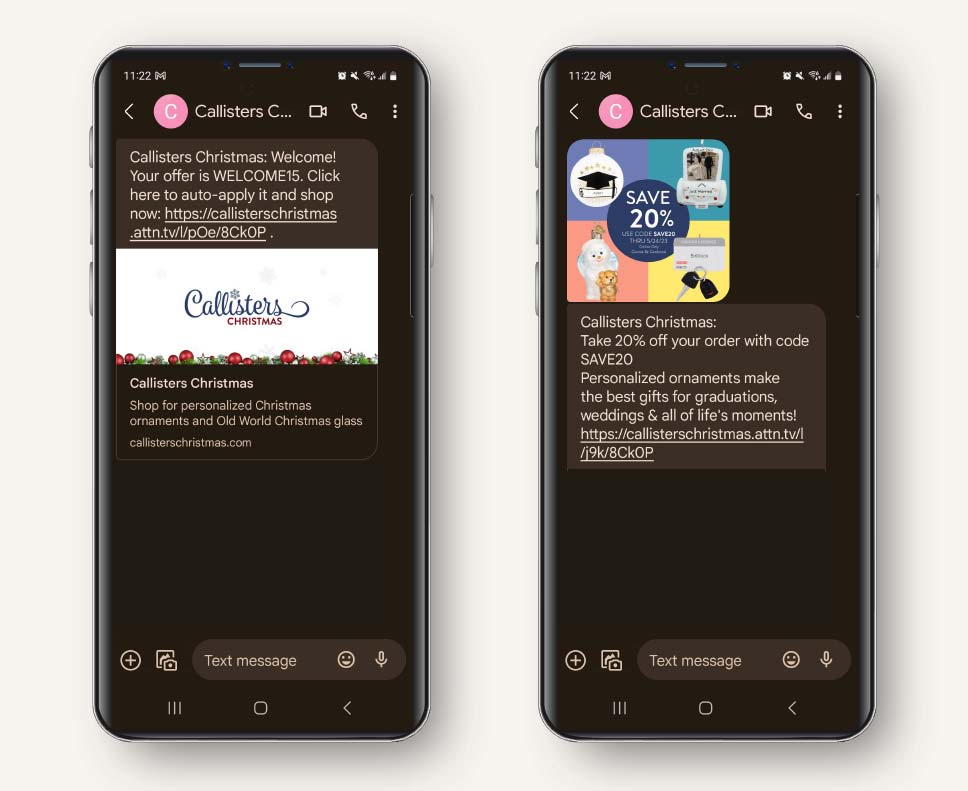 Adding SMS to your outbound marketing strategies
While list building can be a hassle, building and leveraging these channels is vital. The right medium can significantly improve the customer experience — no matter the size of your audience. The extended effort is well worth gaining a competitive edge.
Choose a platform: Depending on your market size, business size, goals, and ambitions, you'll want to vet and review SMS tools. We often recommend Klaviyo, which can manage both channels and integrate with Shopify.
Integrate activities: Integrate your store and email service provider data with the new platform to keep a centralized data source.
Encourage subscriptions: Create a clear value proposition for SMS and Email communications (i.e., SMS for timely sales and notifications).
Segment lists: Personalize customer experiences by capturing preferences and using past purchase information to deliver custom experiences.
Automate campaigns: Create flows and content that seamlessly integrates into the buying lifecycle for your retail brand or customer service communications.
Analyze data: Track impact and iterate campaigns as needed.
With thoughtful strategy, creative content, and the right technology, SMS marketing can help your business build a sustainable, profitable community.
Unlock new opportunities that promote your brand, and add value to your customer touch points. Give our pros a call if you are looking for ways to enhance or evolve your digital marketing activities.