To rebrand, or not to rebrand, that's the question. Regardless of industry or size, your brand is one of the first things that your customers see. Every couple of years, businesses consider rebranding initiatives for a variety of strategic (and not so strategic) reasons.
Rebranding initiatives can be risky, but if done correctly can be well worth the effort. If your business has grown, has new locations, has been acquired, or is adjusting its market positioning, evolving your brand can make a big impact to your customer reach. This is especially true if you are additionally investing in web design and development.
Can rebranding impact your bottom line?
Absolutely. Companies that have been around the block really understand their services and how customers interact with those services. However, as digital best practices change there are many reasons why you may need to evolve or redesign your logo.
If your business is going online for the first time you may find that your logo doesn't translate well into digital.
If you've been around for a while, your brand may feel a bit "old-school," which may be stopping you from reaching new audiences.
If you're losing market share, a redesign can help your business stand out amongst competitors.
Evolving or refreshing your logo mark and brand guidelines shows your customers and community members that your products, services, and practices are evolving with the times. It gives you something to talk about.
For Edelweiss Cruises and Boat Tours, it was all about modernizing the brand. This meant strategically evolving their logo and rebuilding design guidelines. It's more than just art. This project was critical in establishing the art direction across the company's website, social channels, proprietary photography, and its centerpiece video.
Best practices for evolving your logo and brand assets
When evolving your brand, consider how your logo will be used across all your materials, both physical and digital.
1. Understand what your brand really needs to change
Conduct a gap analysis. Consider what really needs to change. What about your old logo no longer works for you, visually, physically, or online? Does it convey your brand values? Does it function well across materials? Why?
Write down and answer these questions individually.
For this project, it was important to distinguish their brand from other cruise lines in the Midwest. Overall, their logo and branding had become outdated and did not work well online. They wanted a modern take on classical style. They were interested in keeping the Edelweiss icon (a German flowering plant) and get coastal vibes without using stereotypically nautical designs.
2. Take design inspiration from everywhere
Create mood boards. Research, collect, organize, and take notes on design trends in your industry and what you like or dislike about your competitor's brand. Find brands or services within similar industries. Crush through likes and dislikes as quickly and indiscriminately as possible.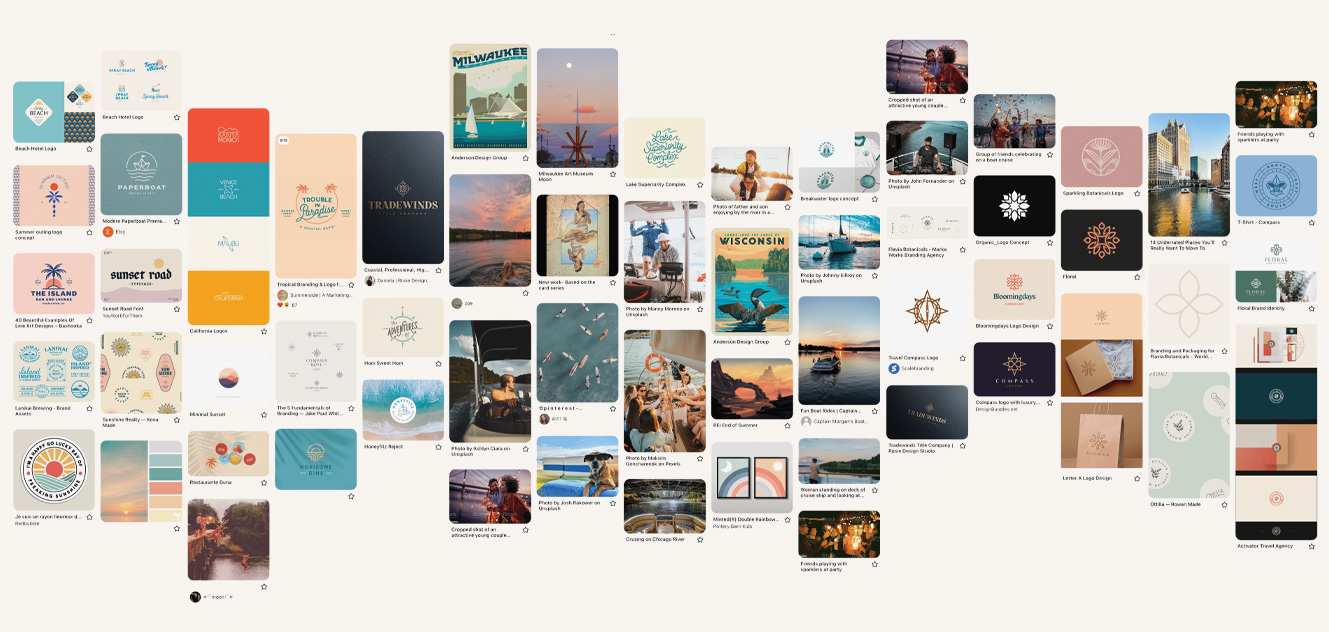 3. Keep it simple:
Simple logos are still better. But that does not mean they are void of personality. Simplicity helps legibility and brand recall. Stick to consistent typefaces, colors, and use cases (which will be defined in your brand guidelines). Each element should be simple by nature, but the way you use it across channels can become more complex and compelling.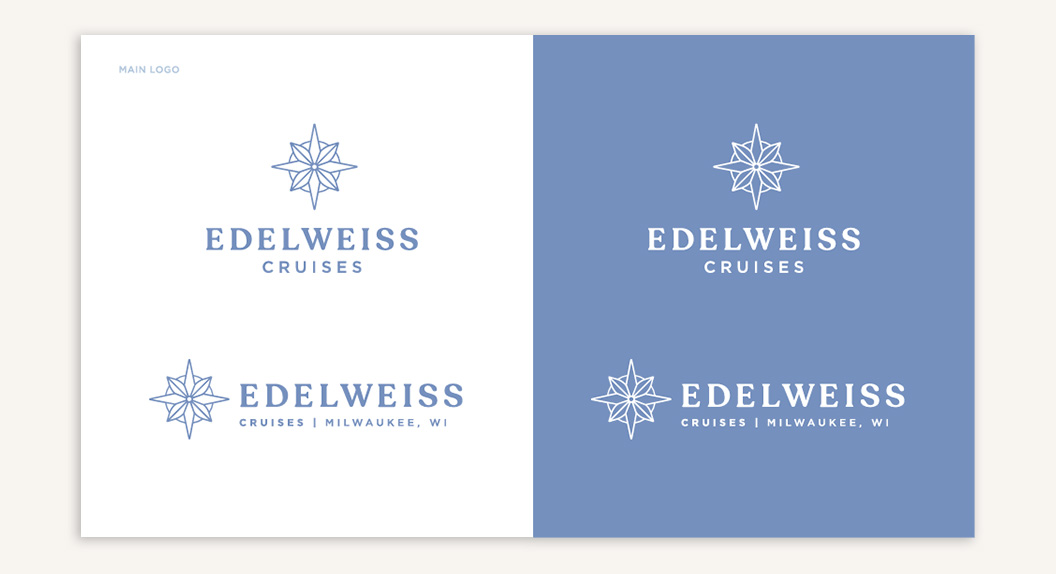 4. 'Go big or go home' does not apply here
A complete redesign may confuse and mislead audiences. It also may alienate loyal customers. When you're thinking about a brand evolution consider keeping core elements so there's a clear transition between old and new. People are particular about the brands they love, but from a business perspective it's important to move forward.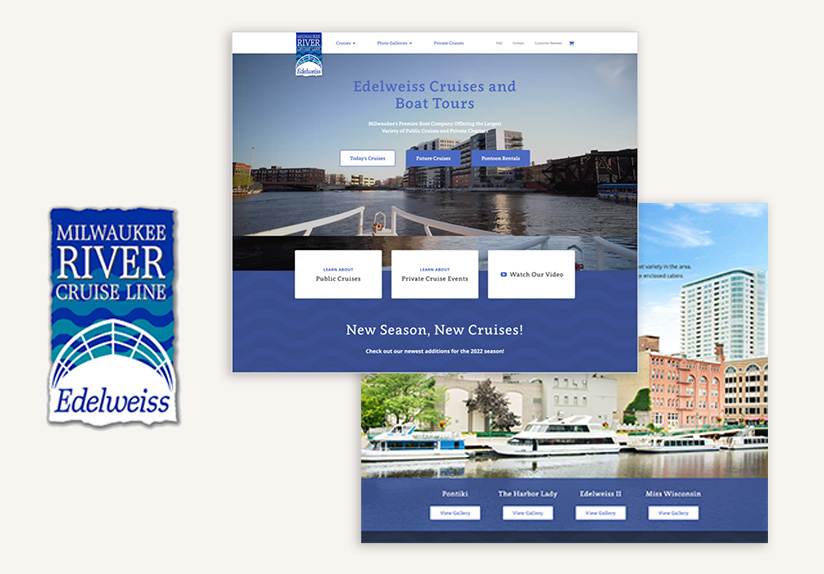 Bringing a new brand identity to life
Rebranding helps draw attention and establish consistency. A business's brand identity becomes a part of its visual communications. While working with Edelweiss, our team did competitor and target audience research, then defined the brand's overall personality. This helped us design the evolved brand identity which included new logos, colors, fonts, patterns, icons, and styling.
The evolved brand had a critical part to play in the cruise lines new website. Not only did it aid in the redesign, but it provided the art direction for the video and photo shoot with our partner production agency.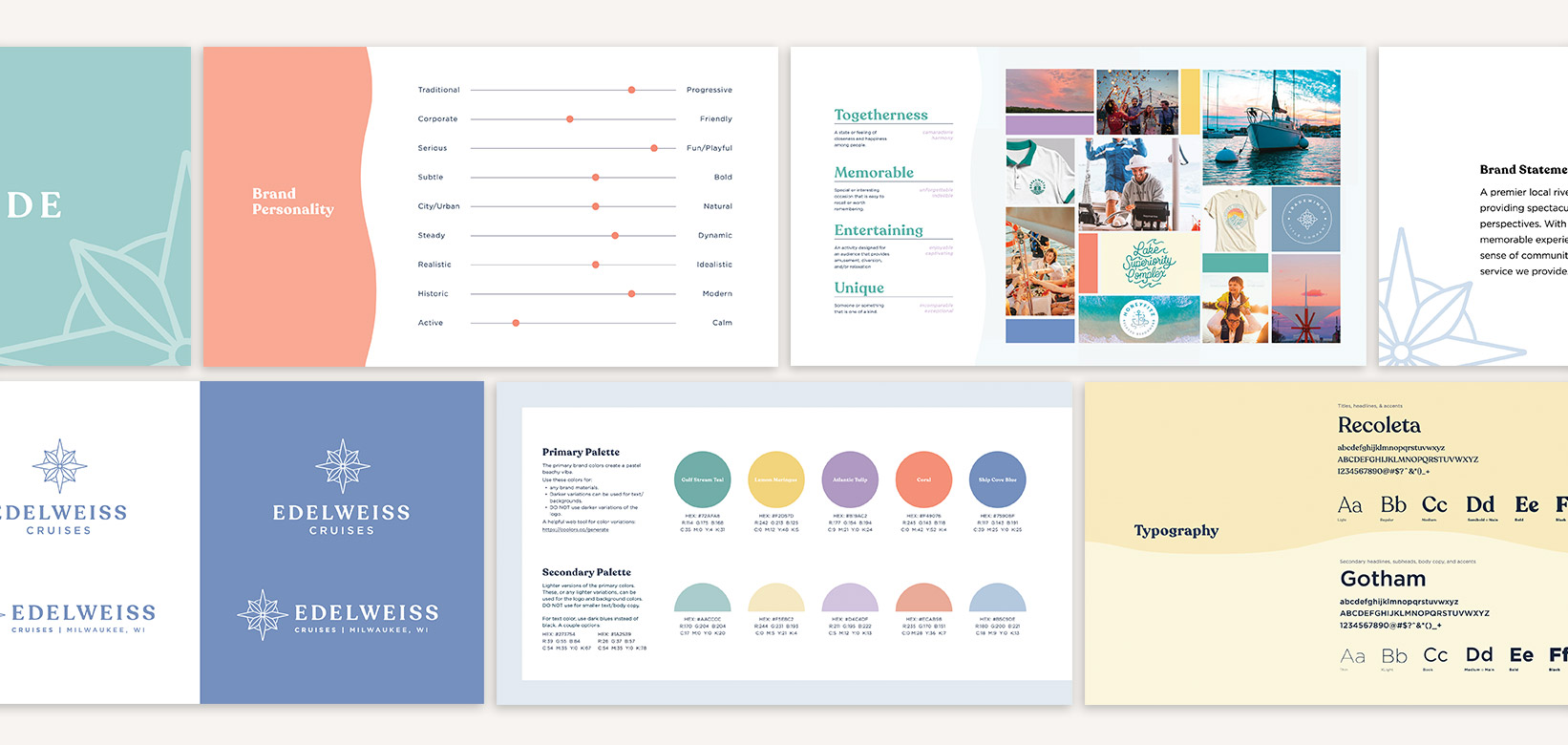 Elevating the website's user experience (UX)
The evolved brand had a critical part to play in the cruise lines new website. Not only did it aid in the redesign, but it provided the art direction for the video and photo shoot with our partner production agency.
If you're interested in walking through this case study and its entirety, please contact us to schedule some time to discuss digital brand identity with one of our experts.