Emails are often over-designed and the core message isn't clear. Refreshing how you manage, produce, and distribute emails can feel like a lot of work — and it is.
To help, we are sharing the five ways we helped streamline the email production lifecycle for one of the midwest's largest destination marketing organizations (DMO).
For Destination Door County, monthly email newsletters have always been a source of great opportunity, with high engagement, and a large subscriber base. But multiple contributors, inconsistent topics, and hosted content became difficult to manage. They had hit the point where a successful process was starting to show its age.
It was time to simplify and refresh its newsletter.
1. Build a travel-centric content calendar
Initially, the DMO relied heavily on contractors, community members, partners, and various contributors for topics, events, and community news. These amazing and well-intentioned folks delivered great content, but the types of topics and the variety of their writing styles accidentally contributed to a lack of standardized information and a formal brand voice.
We implemented a robust but easy-to-manage content calendar to help create a reliable stream of information for the DDC community. This helped keep the subject lines, supporting content, and timelines organized. In addition, to create a more consistent brand voice, third-party contributors were replaced with a core writing team, primarily focused on DDC content management. This clear content strategy allowed writers to hit on a diverse yet cohesive number of topics across each newsletter.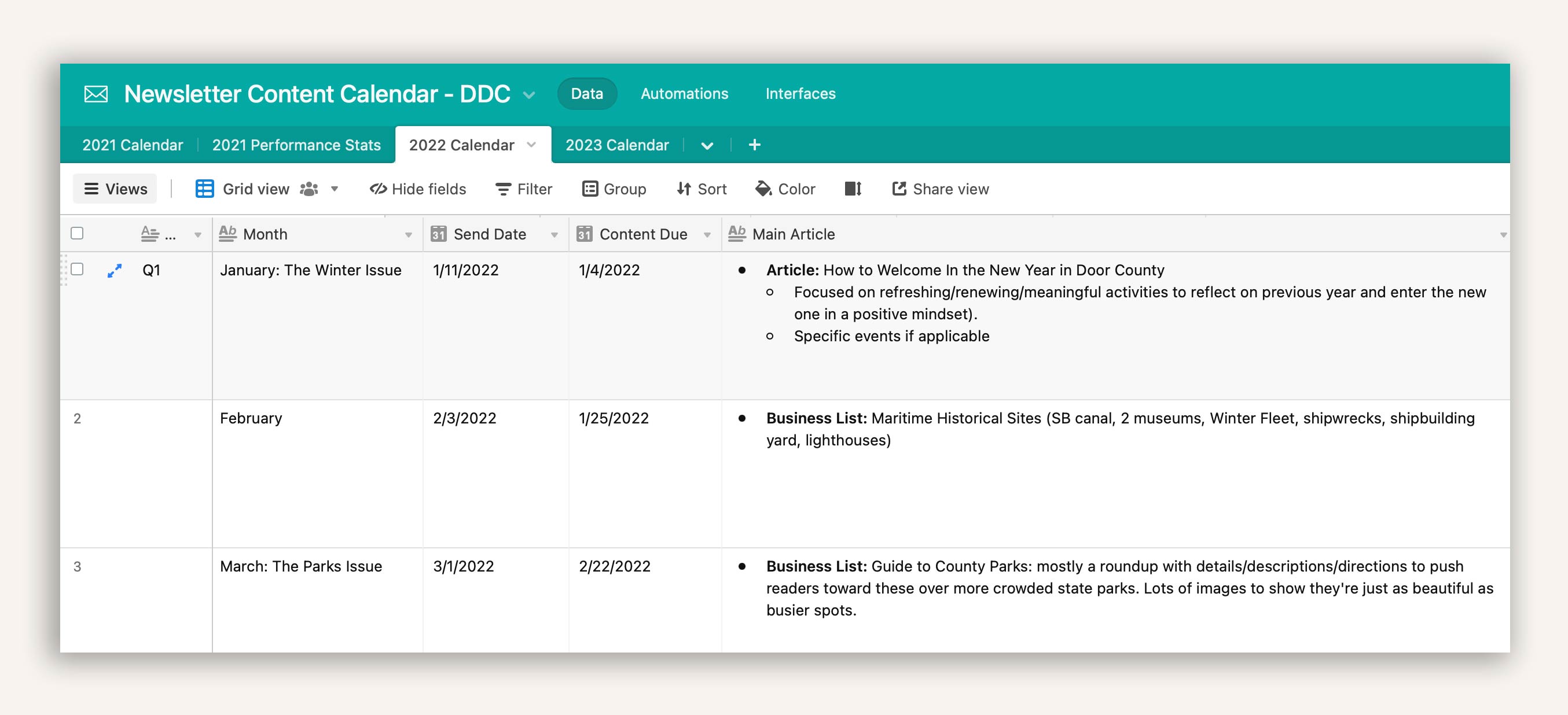 2. Use SEO best practices to answer top searched questions
To take it one step further, we leveraged SEO best practices to help source or validate topics. Rather than relying on the court of public opinion, the DDC team could use Google tools to unlock both branded, high intent search terms such as "hiking in Door County" and non-branded terms such as "hiking in the Midwest." This helped their team learn what people were searching for in Door County and use it to create timely articles, targeted content, and area resources. Knowing the search terms used by different audiences unlocked many opportunities to craft targeted messages by interest. For DDC, their core target audiences included leisure travelers, business travelers, special event group travelers, residents, business partners, and travel writers.
---
Learn how to mine for new article topics
---
3. Create a simple-to-manage email production process
After the content was outlined and organized by the DDC team, a partnering designer would create a mockup design, then pass it to a Lightburn developer to build in MailChimp.
To reduce redundancies, we helped develop a repeatable HTML template in MailChimp that would remove the need for a designer to mockup the newsletter each month, saving the DDC team both time and money. In addition, this allowed the email manager to add images, H1s, copy, and CTAs directly within MailChimp, giving them more control over the design and structure of the final product.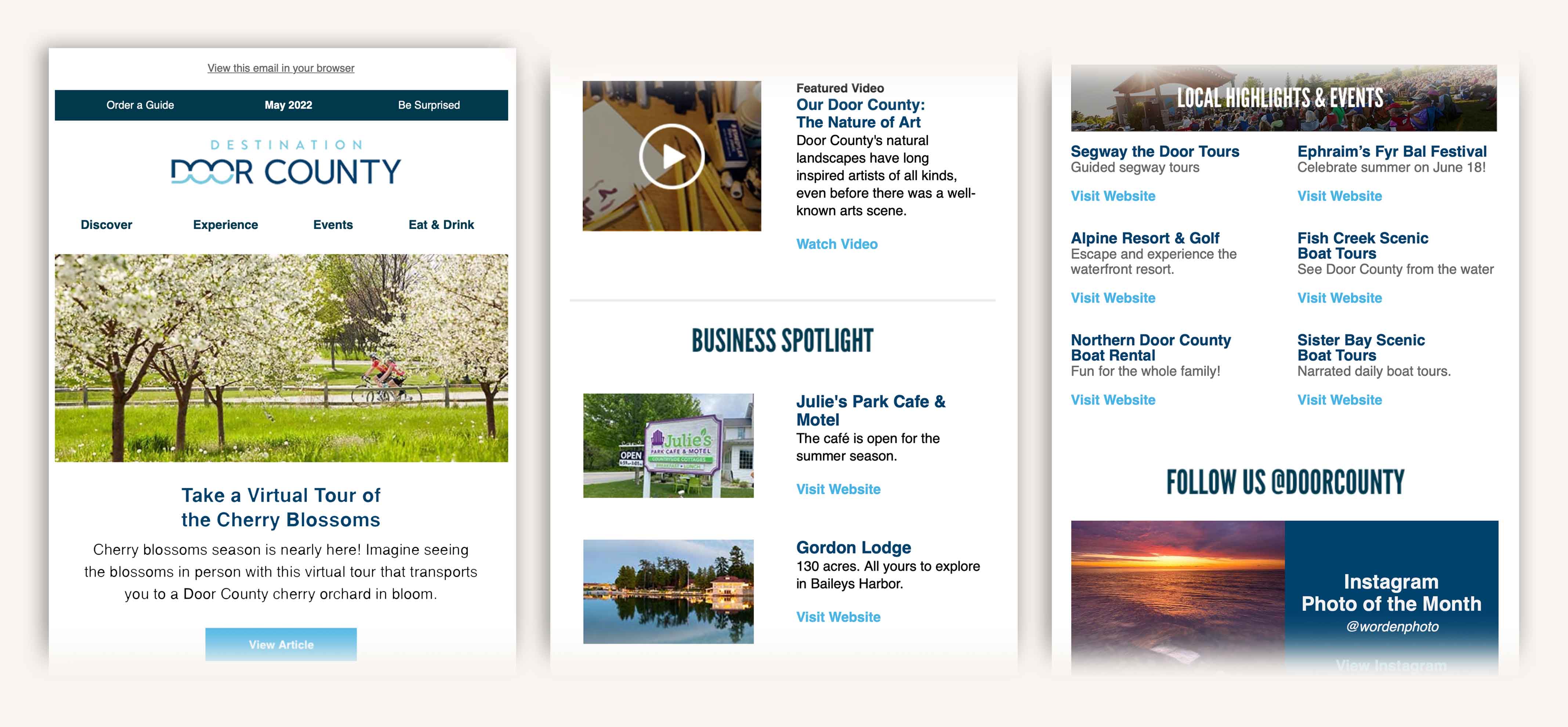 While the initial design may have been initially more visually dynamic, it does not carry the innate value of the simplified and communication-driven layout.
Proving once again in the power of form and function, the open rate of the email is over 30% every month.
4. Ensure content delivery online was as beautiful as it was offline
Before the refresh, articles had a relatively short shelf-life because they were simply nested within the website. This is a very common strategy for most service-based businesses. However, within the travel and tourism industry (and food and beverage), topics are much more evergreen and need to be easily accessible for those dreaming, considering, or actively searching for activities in Door County.
To help the newsletter become the hero of its own story, we created a dedicated newsletter landing page to act as a live news feed for recent articles, resources, and events. The newsletter landing page became a bridge between the more simplified emails and the robust main website with a sleek and fresh design. This was a significant departure from simply redistributing an article via email with a quick link to the website. The new landing page is beautiful, exciting, and engaging.
The email newsletter articles now quick link to the website and the live newsletter
Topics are organized by publication date, hot topics, and by season
To better serve its users, the newsletter site has an interactive homepage and includes a robust search and filtering query
Inset CTAs prompt new users to subscribe, sign the Door County Pledge, view social channels, or discover area businesses
As an added value to its community partners, the homepage also includes areas for local businesses to advertise!
In true travel and tourism style, the newsletter landing page now allows users to choose their own adventure by searching for an activity, business, or topic by interest and prompt them to take action. Even though we decided to simplify the newsletter's design, we enhanced content delivery by creating an all-in-one resource for active community members looking for information.
---
---
Hosted articles also allow the DDC team to easily resurface articles when appropriate. These evergreen articles are DDC's greatest hits and really help produce great ROI on content development.
5. Infuse excitement with themed publications
Sometimes the DDC team wants to get a bit saucy! Within their scalable content plan is the opportunity to strategically infuse themed content into their distribution plans. Working with their team, our writers have helped create seasonal publications users can look forward to receiving, such as the Door County Fall Foliage Report for all the leaf lovers who visit the area in September.
Greater engagement across the board
This streamlined process and refreshed design have driven engagement across both the email marketing channel and online engagement with:
In April 2022:
The monthly newsletter has an open rate of 30%
And over 6,000 unique clicks
The newsletter pages saw nearly 15,000 unique page views
And SEO practices contributed to nearly 10,000 entrances
By creating a transparent, robust, but easy-to-manage constant management plan on top of a simplified but stunning design, we were able to refresh their flagship newsletter and reach larger audiences. This will allow more users to view, learn, and discover exciting getaway adventures in Door County.
If you were considering refreshing or redesigning any part of your digital marketing plan now is the time. As we started to venture into cookie-less advertising, it will be vital to add more opt-in initiatives. Email marketing will become an even more vital part of your digital plan. Schedule a consultation with our pros to get started.