AI tools have been on our radar for some time now (how can they not be, amirite?). Most agencies and in-house marketing departments have already been leveraging some sort of AI-driven interface (we're looking at you Jasper, Grammarly). Even though the topic is currently everywhere, it's not particularly new.
It's a helpful, time-saving tool with endless potential, but it still needs to be used in context to your business, audience, and digital activities.
Before you begin, there are some reasons to tread lightly when adding it into your content development plans.
The biggest thing is that AI should be a tool that assists you, not a "set it and forget it" or replacement solution to content writing for web, marketing, and SEO. That said, it's critical to put your human touch on all AI-written content, regardless of what channel you are using (blogs posts, social posts, emails, website content, or ads.)
Top risks for using AI-written content
Google and other search engines are smart enough to sniff out AI-generated content like a bloodhound — and there is a risk to that. But even more importantly, humans can tell when something isn't "quite right" or "oddly generic" which usually indicates something is written by a machine. This is the biggest risk, because SEO is continually most focused on pleasing and helping real human users, not specifically search engines.
Our pals at Search Engine Journal highlight that:
Google prioritizes high-quality content, regardless of whether humans or machines generate it
Google advises publishers to produce helpful, people-first content that demonstrates expertise, experience, authoritativeness, and trustworthiness (E-E-A-T)
Using automation or AI strictly to manipulate rankings in search results is considered a violation of Google's spam policies
Focusing on the quality of content rather than the production method has been a cornerstone of Google's approach to ranking search results for many years
Using AI tools is totally valid for content ideation and making the writing process faster. Just make sure to read through the outputs, read it out loud, edit and reformat the content, and above all make sure it sounds like a real person wrote the content. Don't just copy and paste from AI to publish (this is the biggest risk to getting dinged in search rankings, etc.).
Pro Tip: Consider what is more challenging to you and your team? Writing something from scratch, or editing and rewriting existing content? It takes time to reformat AI-generated materials with a human touch. You may find that you are tweaking one sentence in spite of another.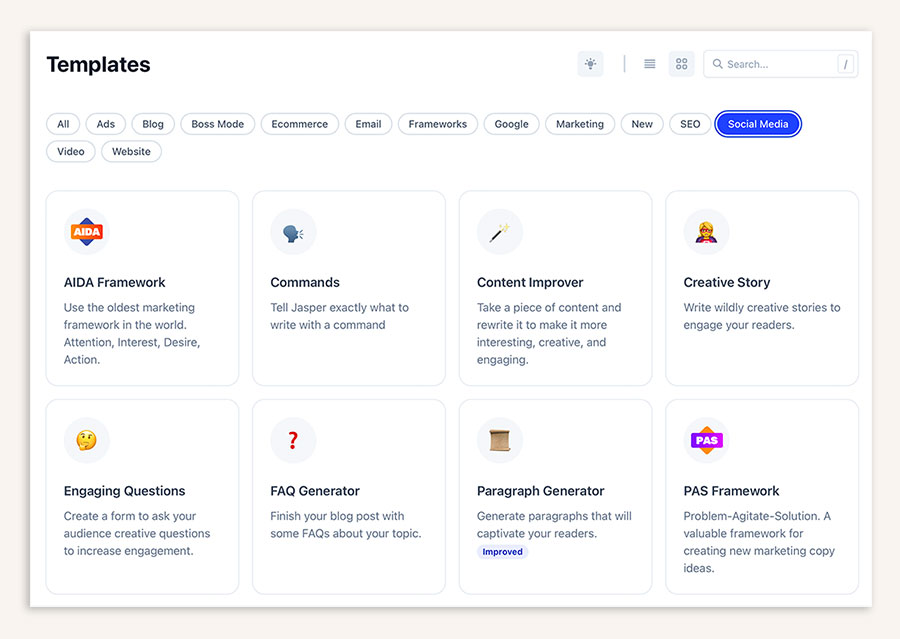 Legitimate use cases for AI-written content
If a tool offers a free trial or if there are other affordable tools out there you want to, do a trial post or two and see how they perform. There are some great, and very legitimate ways to leverage these tools without getting lost in the "quantum realm."
The top four are:
Nail down strategy: Run keyword and topic research
Get the juices flowing: Use it to help you with content ideation for emails, blogs, SEO metadata, and webpages
Produce materials faster: Speed up the actual writing process by making outlines and asking highly specified questions
Check yourself: Drop existing copy into the editor to check for errors and tone, or ask it to provide content variances
Pro Tip: Keep an eye out for grammar and duplicative wording. Some AI tools rinse and repeat grammatically incorrect words and phrases.
You know your audience and brand voice. If these tools helps jumpstart your next project or help you get inspired — have at it. We often use web tools to expedite process, an AI is no different.
Disclosure: As a global hot topic, we recognize that use cases, opinions, and impact will keep changing. We believe AI does not replace the strategic understanding and development of content for web design, web development, and digital marketing assets. We will keep adding to this topic as needed.