Many manufacturing companies face the same challenges when transitioning their sales process into a direct-to-consumer (D2C) market. For most, the greatest leap is changing their account and contract-based relationships into a one-to-one ecommerce and online sales process. It can be challenging to translate sometimes limitless customization to an online retail process that speaks to an online user.
Ecommerce from scratch
If you've never created an online store for your business, there are many base requirements you'll need to successfully create an ecommerce process. If you're a small business selling static products, you may be able to find success with a simple Shopify storefront and rely primarily on single SKU transactions.
For larger businesses whose products have multiple variances, the ecommerce process may need to include a level of product configuration, or a client portal that hosts account information and transaction history. These type of web applications also need to manage password data, deliver transactional emails, and offer reporting. From a business perspective, reports also need to be available for team members to track inventory, sales taxes, and payment processing information.
When The Cawley Co, a 75-year-old manufacturing company, came to us looking to bring their product online, we knew we'd need to create an ecommerce process from scratch to do justice to their unique product options and ongoing user account needs.
The endless array of product options were ready made for an interactive online configurator.

Modifying the sales process

for the retail consumer
The first consideration to make when bringing your products online is that your target market may change. While The Cawley Co. still focused on building a service-based, long-term relationship with purchasing directors, their site Namebadges.com was intended to serve smaller organizations.
The Cawley Co. might create custom name badges for a national fast-food chain. That may be up to 4,000 individual franchises across the United States, with two dozen employees each. These types of businesses have a purchasing director who makes unilateral decisions.
On the other side of the coin, Namebadges.com may only create a dozen different name badges for a local art museum. The local art museum does not have a purchasing director; they simply have a dayshift manager who has been assigned the task of getting new name badges for a handful of employees.
This is, without a doubt, the biggest change a business faces when doing direct to consumer. It's daunting to change an established, custom sales process into a user experience that is repeatable. Working with an outside team to develop an intuitive user experience can help distill what's necessary for a successful ecommerce experience.
Determining

configuration options
After you've built the base of your ecommerce process, you'll need to create guardrails to define the fundamental differences between custom account-based sales and ecommerce. For traditional businesses, every product has a single SKU. For customizable products, each SKU has several variants, which create even more SKUs.

For Namebadges.com, product customization options include so much more than a name. Each name badge could have a different shape, borders, bleed areas, colors, and layer structures. Users would also need to decide on fastener types, pins, or magnets. Even though fastener types are seemingly simple in nature, the weight and size of the selected product has a direct impact on whether a pin or magnet is suitable. Unlike somebody who is speaking directly to a Cawley Co. representative, a Namebadges.com user would need the proper limitations to avoid product variant errors.
For Namebadges.com, we quickly realized that the number of SKUs needed was going too far exceed the current CMS license limitation. Using the Kentico CMS, we were able to accommodate these thousands of product variants.
Designing the website and user experience
The user experience (UX) of the configurator had to be kept top of mind. It needed to highlight the product and offerings without overwhelming the user. The sheer number of options was already overwhelming from a technical perspective, but it needed to be visualized seamlessly for the user.
To accomplish this, the configurator is wrapped into a fully functioning service and ecommerce website. We designed and developed it to display the product, then offer customization options. The website showcases name badge options by type and by style. Upon learning more about each type of product, a user jumps directly into designing and personalizing their own name badge; a.k.a, launching the configurator.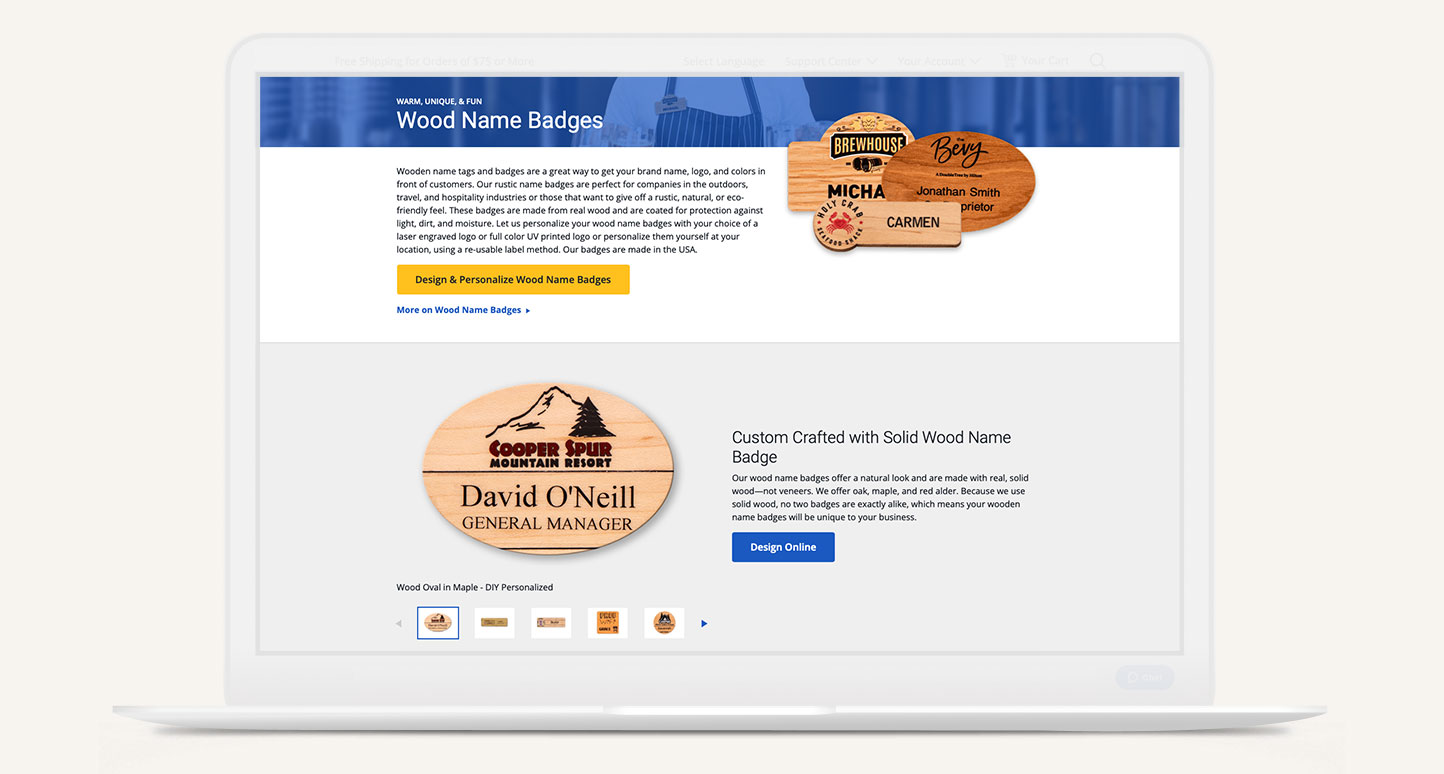 Within the configurator, a user selects a product and designs the badge by choosing their own base, shape, clipart, or text fields. From this interface a badge can be saved as a template for ongoing orders if in needs to be approved before the order is placed. The next step allows a user to select personalized text and select fasteners. To simplify the process, a .CSV can be uploaded rather than inputting name or title information by hand.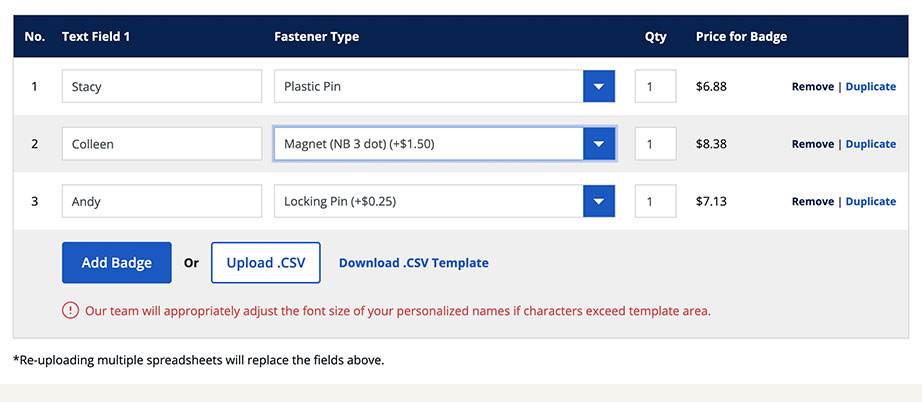 The configurator was built in multiple iterations by leveraging user stories and determining how shoppers would interact and use the tool. Since its debut, small updates have been added every quarter to simplify the process and respond to real world use cases. For example, the product configurator features a circular overlay that is representative of the size of a US quarter. This ensures that a user can quickly understand the size of the chosen product.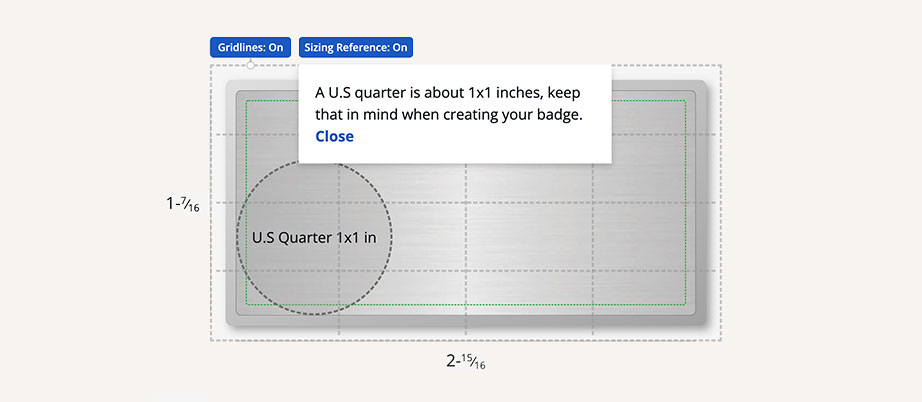 The Cawley Co.'s reputation for superior customer service had to translate to Namebadges.com. Their clients expected simple, easy, and obvious. Since launching in early 2020, the website has been seen by over 100,000 unique visitors, delivered over 4,000 personalized products, and is seeing an ecommerce conversion rate of 3%.