Over "74% of consumers [feel] frustrated when website content is not personalized," which means that personalization and customization are no longer a sales tactic, they're your promise to simplify the user experience for your customers. In other words, it's a must in your digital strategy. Especially because customers expect it.
With more competition than ever before, it has become increasingly challenging to grow a business online without personalized automation. An active social media channel and a few pay-per-click (PPC) ads are no longer enough to stay connected.
---
---
Content personalization and automated drip email campaigns are two marketing automation tactics with relatively low barriers to entry, which makes them a surefire way to take your digital marketing strategy to the next level. With a bit of insight into your customers' journey, some primary data collection, and a few website tweaks, you can take your first steps into marketing automation.
Content Personalization: What Is It?
Content personalization shows different messages to different customers specifically tailored to the individuals based on their previous interactions with your business.
For example: An existing customer will get a different message than a new visitor.
For the existing customer or returning user: Your marketing message should be designed to encourage repeat orders or the purchase of related and supplemental products for that user.
For the new user: You need to introduce them to your business and brand.
Said another way: Your objective shifts from customer acquisition to relationship building in order to increase the customer's lifetime value to your business.
Content personalization allows you to change your message so it speaks to each customer in the proper tone base on their relationship with you and your business. With "91% of consumers saying that they are more likely to shop with brands that provide offers and recommendations relevant to their needs," tracking and segmenting your audience is no longer optional.
How Does Content Personalization Work?
Content personalization often begins with cookies—you tag the users' browser with a cookie so you can track the pages they've visited, the products they've added to their carts, completed purchases, or any other behavior you deem important. Then, you can craft and display different versions of your message (or different messages entirely) based on these behaviors or conversions. When done correctly, cookies create customized experiences for your customers, which they prefer because it supports their individual needs.

There are many different tools and platforms that enable content personalization, many of which we have implemented on behalf of our clients. In the example below, you can see a clear change in the primary call-to-action on the homepage after a customer has made a purchase.
Because we know what the customer previously ordered, we change/personalize the call-to-action to target a repeat order. Not only does this let customers know they are in the right place, it makes it easier for them to purchase the products they want with minimal effort.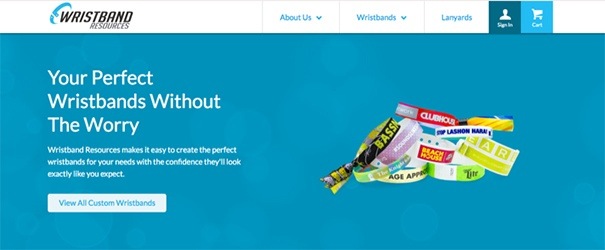 A new user will see the generalized introduction headline and "View All Custom Wristbands" button to encourage them to explore the website and offerings, and purchase then purchase the product.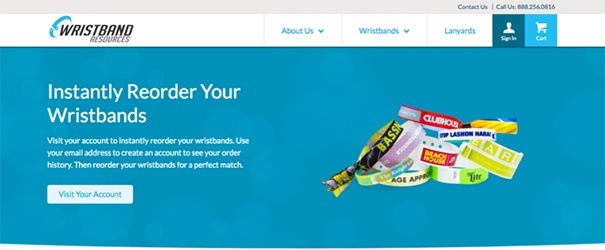 A returning / existing customer will see a headline specific to returning users and a "Visit Your Account" button for faster, easier process for re-purchasing a previous order.

Engage Customers With Email Automation
Email is not dead. It is alive and thriving and as a business you need to be there in your customer's inboxes. Marketing automation works very well in this more traditional sales environment. Did you know that marketers report a "760% increase in email revenue from personalized campaigns?"
Email recipients qualify themselves through their behavior, which moves them closer to purchase while your sales team can track interactions. Many businesses use their websites to collect leads for salespeople, but new leads are sometimes neglected because the team is busy working with current customers. Or, at times, previous customers are forgotten because they have been inactive.
That is where an automated email drip campaign can come into play.
What is an Email Drip Campaign?
An automated email drip campaign is a series of emails triggered based on customer actions and designed to encourage further action—whether that be an escalation of research, a loft conversion like a newsletter sign-up, or an actual hard conversion or sale.
Here's an email drip campaign example (the number list indicates when the next "drip" is triggered and why):
When a user signs up for a demo or free trial on your website
They are automatically sent a "welcome" email that contains a clear call-to-action or "next step"
Then, if the user doesn't respond, your email service can deploy an automatic follow-up email the next day, which could include a call-to-action to view a calendar with available appointment times and to schedule a call with a salesperson
If they respond to either email, users are taken out of the email drip campaign and automatically assigned a salesperson.
In this example, marketing automation also plays a role in sales enablement and helps ensure you do not have a leaky customer acquisition funnel.
Further, if the customer remains unresponsive for an extended period of time, we can automatically follow up with a series of pointed questions, informational resources, or special offers to encourage them to engage with the sales team.
For example, if the user has been unresponsive for 10 days
We could send them a time-bound discount, an offer for a free consultation, etc.
Typically, an automated email drip campaign requires a customer relationship management (CRM) system that allows a business to track a person through the customer journey. We've found popular tools like Zapier, Mailchimp, HubSpot, or even email marketing within the Kentico CMS to be very helpful in setting up this type of campaign. But we're always on the lookout for new and innovative tools for email marketing and engagement.
But no matter how you approach it or the tools you use, marketing automation is a powerful concept that can take many shapes and forms and has a tremendous impact on your business and its bottom line.
We've only scratched the surface with these examples, but they both illustrate easy ways to step up your digital marketing game and make it easier for you to meet your consumers where they are in their customer journey.
Statistical references can be found on Forbes.com
Ready to take your digital marketing and marketing automation to the next level? Let us do the heavy lifting. If you're interested in hearing more about our process and approach, get in touch us at (414) 347-1866 or via email at contact@lightburn.co.