Consider design systems the more refined big brother of your brand identity. Similar ideals but more mature, knowledgeable, and experienced.
Design systems help create better digital experiences and strengthen brand communications. By creating a unified visual language that is consistent across all products and services, businesses can better resonate with customers and provide managers with the ability to rapidly develop new landing pages while staying on brand.
Over the last few years, we have developed more and more design systems for clients across multiple industries and platforms.
Crafting a holistic design system
To better explain their popularity and impact, we asked our lead UX/UI designer, Caitlin Mackey, and lead front end developer, Steve Kaufman, to share our approach to building and applying design systems.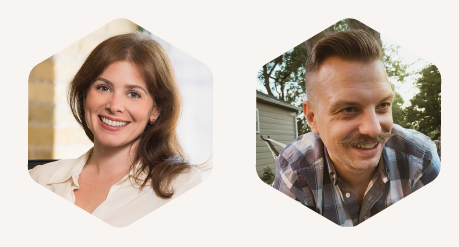 What is a design system?
Caitlin: "A design system uses intangibles (brand values, tone, process, etc.) and tangibles (brand identity, patterns, components, etc.) to create a more holistic set of standards used to manage the scaling of design via reusable components and patterns."
Steve: "Yeah. The biggest difference between a design system and what is more commonly known as brand identity is how it is built, creating closer collaboration between design and development."
What do we commonly include in our design systems?
Caitlin: "We would first start by defining a company's purpose, shared values, goals, and vision. These are the building blocks. While design systems do include the components in brand identity (color, typography, iconography, grid, spacing, design principles), they also include tone and language, components, and patterns."
Steve: "After defining assets, we are able to build the core components or widgets within a client's DXP or CMS. We can provide guidance and use case examples. Then, we can create the technical and functionality documentation for internal teams, so they're better able to leverage these patterns and lean upon noted best practices."
What is your favorite thing about designing and or using design systems?
Caitlin: " Decisions are not made subjectively but are instead built from brand philosophies and values. Then we create components and patterns that can be reused and scaled, allowing the design to move faster, and freeing up time to tackle more complex problems."
Steve: "I like them because they create consistency and predictability across multiple projects and allow us to write reusable code. It's a very efficient way to save time and reduce redundancy."
What is one thing you would share with clients looking to evolve their brand?
Caitlin: "Creating and maintaining a scalable design system is more time intensive than spinning up a handful of one-off components. However, by investing the time upfront to create a system that will grow with you (with some maintenance along the way), you save yourself from digging a hole you can only get out of via a complete site/app redesign."
Steve: "What she said. Really, invest in it now, or reinvest in a bunch of other clean-up and web maintenance issues later."
Four examples of Design Systems
Below or some examples of how our team has delivered design systems for a few of our travel and tourism, manufacturing, and F&B clients.
At the end of the day, having a strong design system in place can be a major differentiator for your business. It helps you create a unique identity and stay competitive.
If you'd like to discuss ways to create a more dedicated design system, give our team a call to set up a free consultation.