Jumpstart your GA4 setup and mirror existing Universal Analytics reports
We've done the dirty work — Let us help set up your GA4 properties and reporting dashboards in one fell swoop
Our digital analysts are offering an accessible way to help marketing leaders ensure business continuity in 2023 and beyond. Skip past those broken data reports and data management frustrations by letting our pros:
Implement Google Analytics 4
Relink your Google Tag Manager properties
Ensure conversion tracking is properly firing
Rebuild your most used custom reports in GA4
What you'll get
Free Consultation
Confirm we can help jumpstart your implementation using existing assets.
Analytics Audit
Meet with stakeholders to review the core metrics that need to be rebuilt.
Install & Setup
Install GA4, mirror top KPIs, enable tracking, and review with stakeholders.
Your analytics dashboards play such an essential role to your business. They track the impact of your digital marketing activities and help monitor the performance of your web properties. If managed correctly, web insights help identify areas of opportunity within your sales cycle, spotlight pain points, and provide valuable information about evolving materials to increase conversions.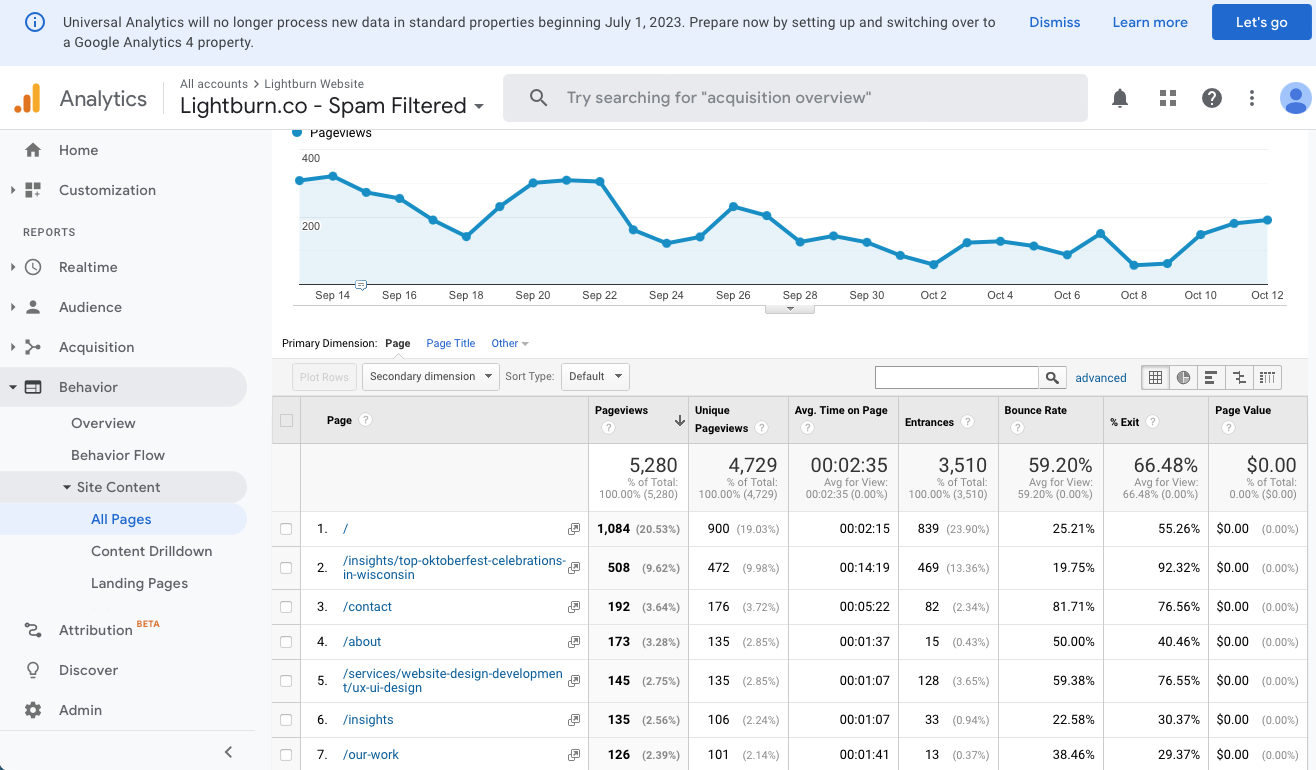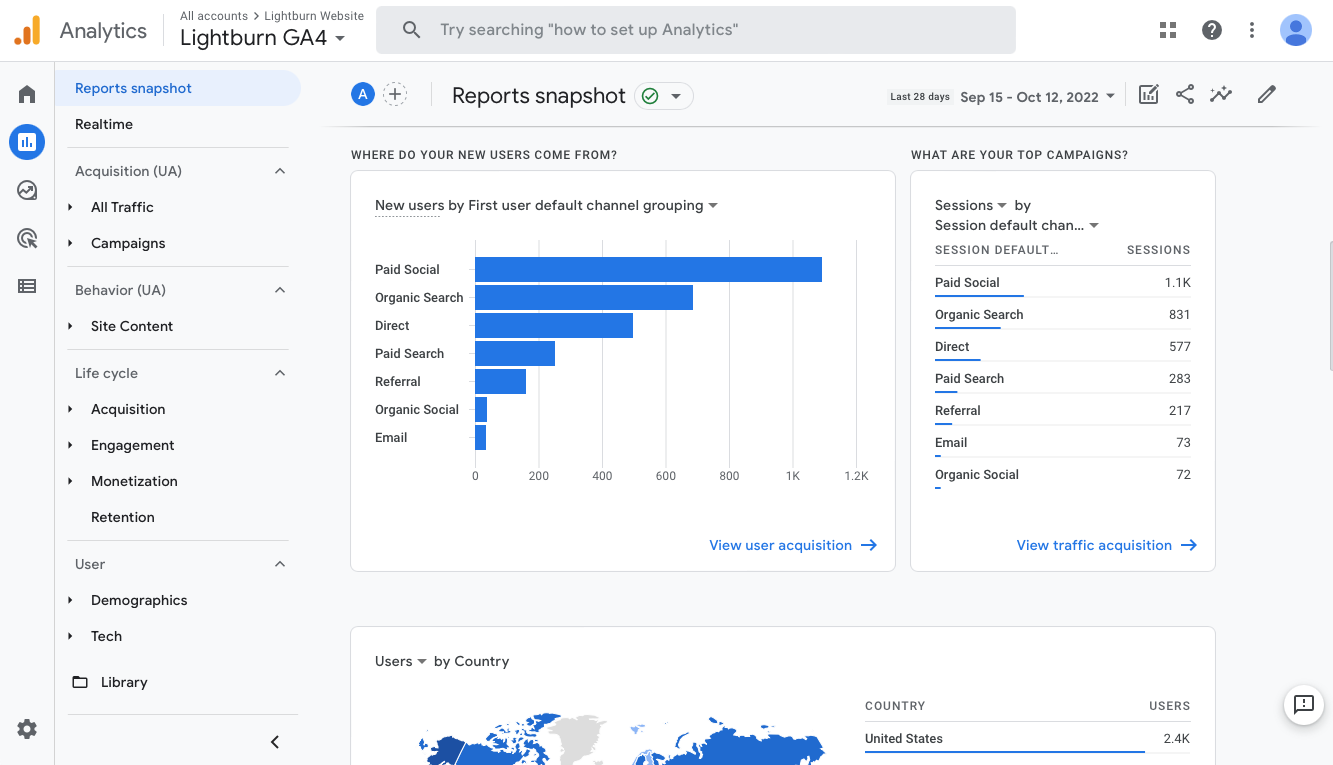 "My team will figure it out" is a wish, not a data migration plan
This is a critical moment. You don't have the time and overhead to learn a completely new system before implementation. While you absolutely can setup GA4 in 10 minutes or less, rebuilding onsite events and conversion reports takes consideration. Common and standard reports are no longer common. Everything must be rebuilt.
Request a free consultation
The free consultation includes a informal 30-minute chat between our specialists and your marketing stakeholders to review your needs.
What's included in this offer?
Free 30-minute consultation*
A 1:1 meeting with marketing stakeholders to determine top common reports
GA4 technical setup
Setup and customize existing common reports in the new 'Reports' tab by audiences, acquisition, behavior, and conversions specific to your business.

May include traffic sources, engagement rates, event-based conversions, exit pages, network referrals, average time on page, mobile traffic, audiences, acquisitions, geographic information, technology types, search queries, landing pages, sessions, etc.

Setup core conversion tracking in new reporting layout
Meet, review, and browse data with stakeholders
What will require additional scope?
Paid media and ecommerce metrics

May include AdWords data, average order value, customer acquisition costs, customer lifetime value, product performance, ecommerce conversion rates, abandonment rates, etc.

Drag-and-drop style web builder
Extensive multi-channel funnels
Organizing, editing, or reformatting UTM parameters
Curious about cost?
For us, it is important that we're able to help our community set up these digital tracking tools correctly — the first time. Because of this mission, we are currently offering this service at a flat rate.
Current clients $1,500
For clients who've already worked with our team, this flat fee assumes we already have, or can quickly be granted access to your current Universal Analytics and Google Tag Manager properties.
New engagements $2,250
For businesses looking to quickly rebuild their reports in GA4, and who's admin can quickly offer login access. Our team can become a temporary admin in order to help set up conversion and event tracking for a top reports.
What about ecommerce projects?
We can and will absolutely help our ecommerce clients a community members. Estores by nature or more complicated to track. There are just more variables. In combination with their complexities, the Google gods are still working through some data inconsistencies between Universal Analytics and GA4. We are happy to set up the primary business dashboards for our e-commerce pals, and will provide additional quote for e-commerce events, metrics, conversions.
The fine print: This service is provided to qualifying businesses on a traditional CMS system who already have Universal Analytics set up. Platforms such as Wix and Squarespace are excluded. Our agency works in sprints, projects timelines will be based on availability and workload. Most Google Analytics 'Lift & Shift' projects are scheduled promptly, and completed within two weeks from start date. Analytics projects can be complex. Because of this, Lightburn reserves the right to quote any and all additional services that lie beyond the scope of this service. The intention of our 'Lift & Shift' services are to quickly change platforms and rebuild basic properties for organizations who are already have the existing infrastructure. All additional work will be quoted as a new web project, or can request continual maintenance and support services. Clients with maintenance and support agreements do not qualify for the free consultation. Work will continue to be billed on an hourly, as requested basis.