Customer service is more than making a sale or managing customer support inquiries. It's about simplifying the entire lifecycle.
Most companies initially design and develop their website with their own business needs in mind, not necessarily through the lens of the customer's needs. As those businesses mature, they realize they need to invest in user experience, connect with their customers, and truly provide value.
This wasn't the case for Digital Pix and Composites (DPC). They came out of the gate knowing they had to digitize their entire service process to support their customers.
Digitizing the project management process
DPC provides photography and composition services for sororities, fraternities, and other graduate programs.
For every order, DPC's primary customer contact works with the DPC team to schedule photography sessions for 40 – 50 students (or participants), organize information, collect fees, choose the designs for the composite, view proofs, and confirm orders. To complicate matters, some of the fees have to be individually paid by some students. Most also choose to increase their investment in these photo sessions by purchasing portrait packages.
Since its release, the Composite Tool has been a leading reason why customers choose DPC. It reinforces the exceptional customer service and resourcefulness that DPC customers have come to expect.
Customer Dashboard
Primary contacts now have their own portal to manage composites. The customer dashboard features account details, session information, and quick tips on the project's progress. It also includes notes on what to expect and ways to contact their account representatives for support.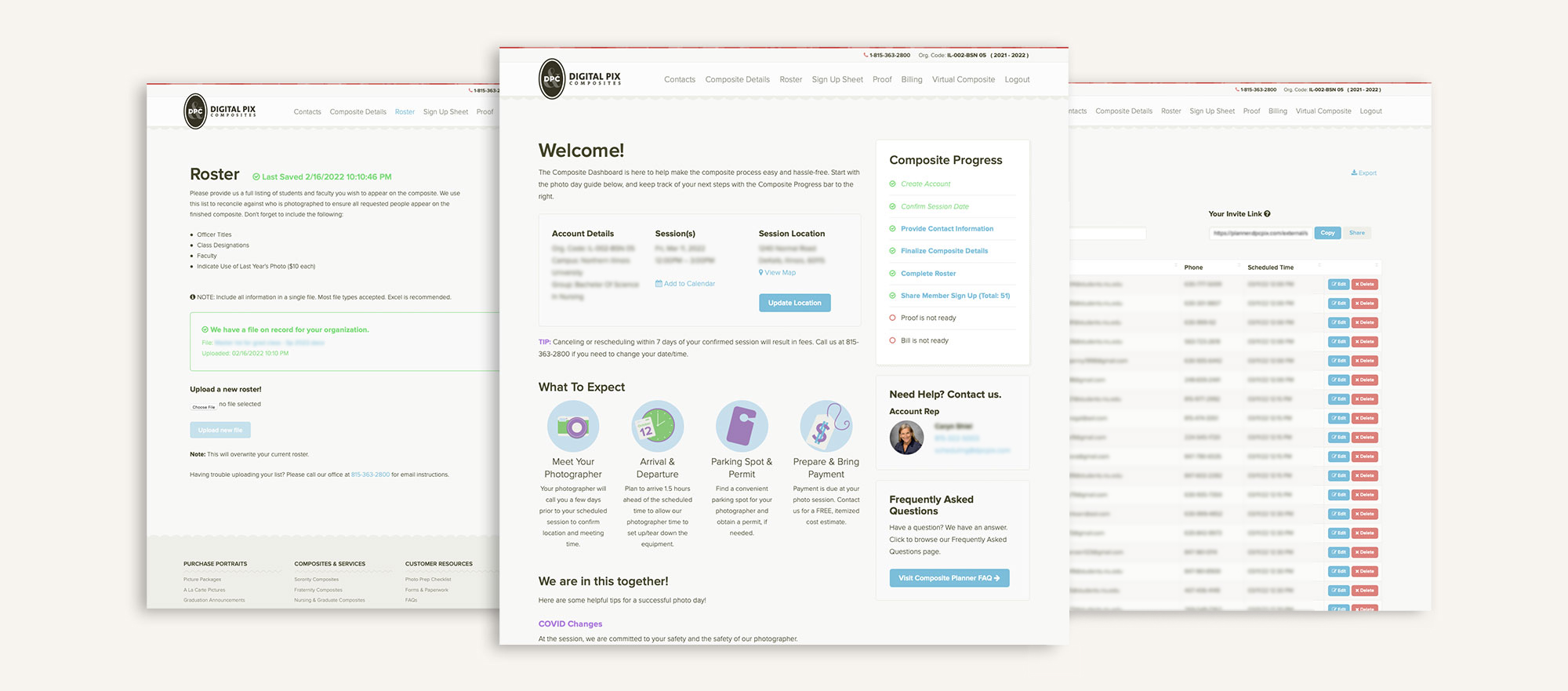 Rosters
The customer portal also offers a quick way to upload student, faculty, or participant rosters. These "Smart Lists" repopulate current contact information and remove old data (such as graduated seniors) directly within the Composite Tool. Customer coordinators can now invite members to participate using a custom, sharable link, allowing them to sign up for individual sessions.
Proofs and Virtual Composites
Once all participants have sat for their photography sessions, headshots are retouched and collected for the virtual composite proof. Composite proofs are then reviewed by the coordinator, and final design decisions are made. Once approved, payment is processed, and the composites are assembled and shipped.


Adding more checkout processes
Once the tool was live, our team spent considerable time refining it based on customer feedback. During user acceptance testing, it was clear that more automation was needed to close gaps for contributing participants.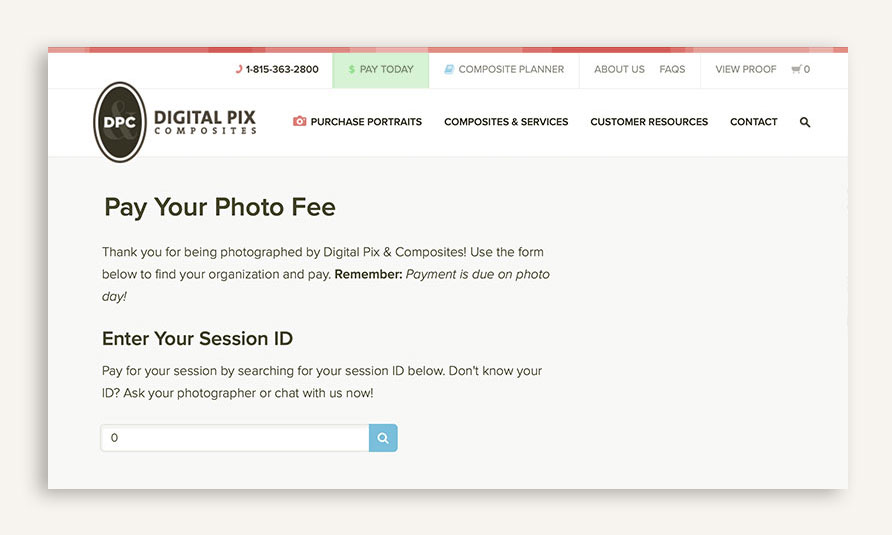 The first was session fees.
Rather than asking the customer coordinator to manage payments, DPC added a quick link for participants to pay for their photography sessions in real-time from their mobile devices. Some of the data for each session, and participant, is pulled from the existing application to keep payments organized.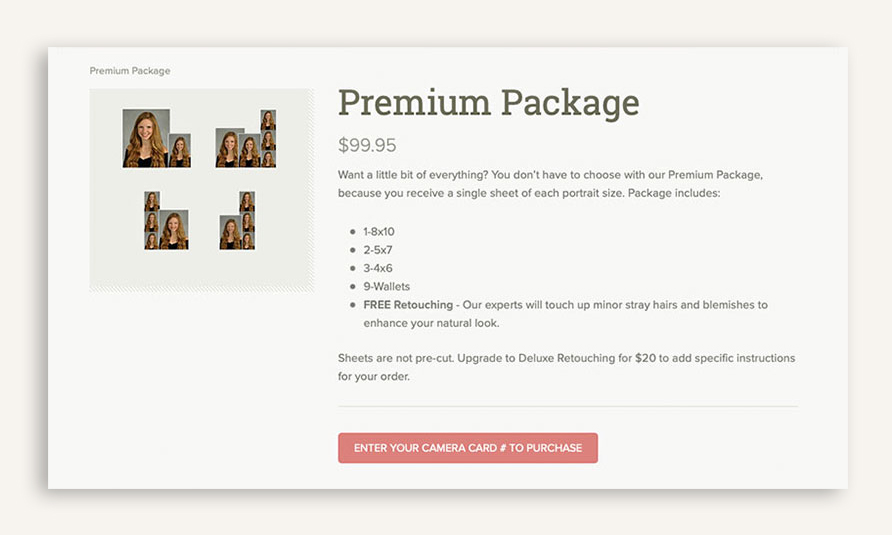 The second was individual orders.
There was also a need to pair student photography information with additional purchases. Once again, connecting to the database, we enabled a custom checkout process that combined the student's individual camera card with the package purchased to create a seamless retail experience.
What makes this process unique is that the web app hosts all of the data that contributes to three checkout processes:
The primary composite
The photography session
Student portrait packages


Automating Administration
We're not done yet.
On the flip-side, digitizing the project management process also simplified the organization, management, and delivery of DPC's products and services.
DPC account managers now get a holistic view of each organization in real-time. They see where customers are in the composite process, view assigned photographers, track email notifications, download shared files, upload proofs, and even fulfill orders for digital products!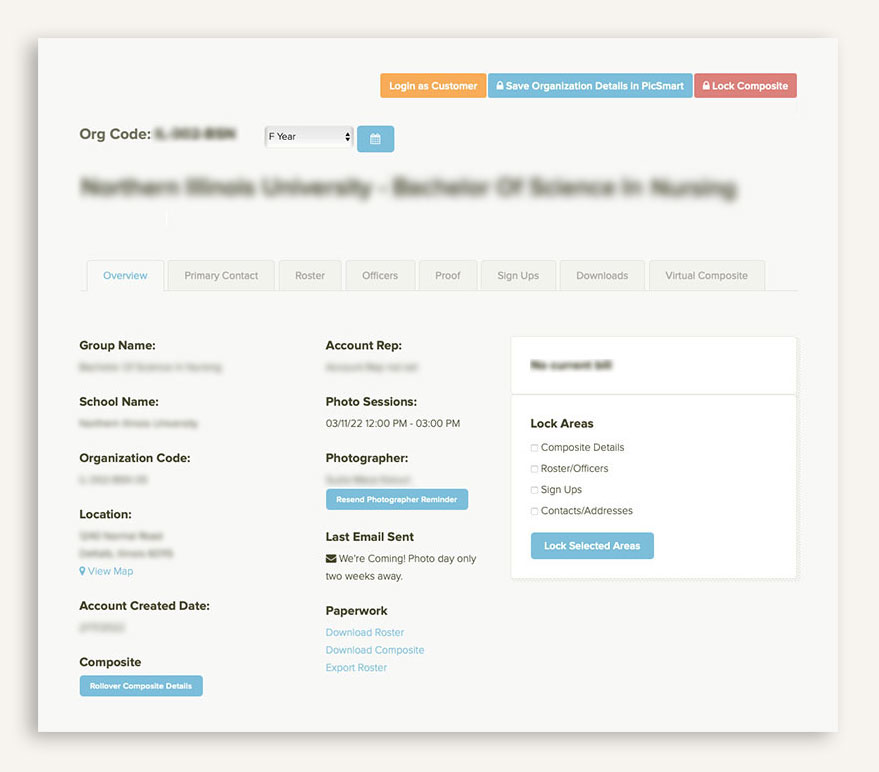 What's next?
Most recently, we're working to evolve the Composite Planner tool to help serve DPC's in-house photographers, tracking session bookings, calendars, and travel arrangements using Google integrations.
Mobile and web applications are truly made for their users. If you're interested in digitizing your business processes or automating data management, give our experts a call at (414) 347-1866 to discuss how we can help you build a web application that will uplift and simplify your ecommerce processes.